Frequently Asked Questions
Your New Commute Starts Here!
Receive up to

$400

each month
towards a vanpool lease!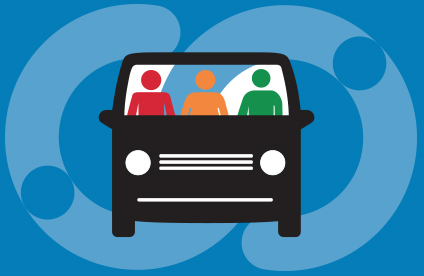 PROGRAM OVERVIEW
An SB Loop vanpool is a group of five-to-fifteen people sharing a ride to work or vocational/post-secondary school.
BENEFITS to Vanpooling with SB Loop
Save Money. By driving your car less, you'll be saving on gas and maintenance. Not to mention wear and tear—on you, and your car! Plus, SB Loop (the Loop) offers up to $400 each month toward the lease of your van.
Say Yes To Easy! You'll free up time to relax, read a book, catch up on work, or simply enjoy the company of fellow passengers. Ride the Loop, share the ride and relax.
Get Rewarded. SBCTA's IE Commuter rideshare program offers up to $130 in gift card incentives to eligible commuters new to vanpooling and discounts to more than 500,000 local and nationwide retailers.
Ride Assured. If you're employer participates in the IE Commuter rideshare program, you won't feel stranded without a ride home. Guaranteed Ride Home (GRH) offers a reimbursed ride during a valid emergency up to two (2) times per year.*
* Employer must participate in SBCTA's IE Commuter Program to be eligible, review the GRH Guidelines here.
QUALIFICATIONS

for a Vanpool Subsidy

It's time to improve your commute. Join the easy, comfortable, relaxing way to commute, with the Loop vanpool program!
Your employer or vocational/post-secondary school destination must be within the SB Loop Service Area
Your vanpool must consist of five-to-fifteen participants (including the driver)
Your route must be a minimum of 30 miles roundtrip, between origin and destination
Enter a month-to-month lease with a Loop approved Leasing Vendor — Commute with Enterprise
For detailed SB Loop Guidelines,
click here
.
LET'S GET STARTED!
Ready to start a new chapter in your commute? Join a vanpool or start your own! You are on your way to a better commute with the Loop.
FIND a seat in a van along your route.
JOIN a waitlist for a van that's currently full.
Start Your Own Vanpool
Want to create your own vanpool? Follow these simple steps to get started.
Check to see if your vanpool qualifies for the Loop

Destination must be within the San Bernardino Service Area
Estimated size of your vanpool vehicle (seven-to-fifteen vanpool seats)
Estimated number of vanpool participants




NOTE: Vanpool must have a minimum of 40% occupancy to qualify at startup.

(e.g. seven passenger van = five participants). Review SB Loop Guidelines for details.

Find vanpool participants with similar schedules, home and work/school locations

Check with your employer or your leasing vendor, they may be able to help

Organize meeting locations

Multiple pick-up and drop-off locations are permitted (and encouraged) to maximize the number of riders
Find a Park & Ride lot

Assign roles within your vanpool

Determine who will apply for and enter the month-to-month lease with an SB Loop approved leasing vendor. This person is typically the primary driver of the vanpool and responsible for submitting daily ridership reports and monthly expenses. Be sure to ask your leasing vendor about approving back-up drivers.

Select an SB Loop approved leasing vendor

SB Loop currently offers Commute with Enterprise as an approved leasing vendor. The leasing vendor provides the vanpool vehicle, maintenance, roadside assistance and insurance. Contact them directly to learn about their vehicle offerings and discuss lease rates.

Submit the Loop Application

When you are ready to submit your application, simply follow these steps:

Commute with Enterprise Lease

Create an account or sign-in to your existing account
Input the information required to submit your application
Check your email regularly. We will be in touch with you throughout the application approval process
Need Assistance? Our Team is Here to Help You!
We are here to provide you with excellence in service throughout the process. Please contact us if you have any questions on vanpooling and getting started:
The Loop Resources
Other Resources
SBCTA (www.gosbcta.com)
Learn more about the agency operating the Loop and transportation projects in progress throughout San Bernardino County.
IE Commuter (www.IECommuter.org) Call 866-RIDESHARE (866-743-3742) to see if you're eligible for IE Commuter rideshare rewards and incentives, find a park & ride lot, learn more about rideshare week and stay updated on rideshare events.